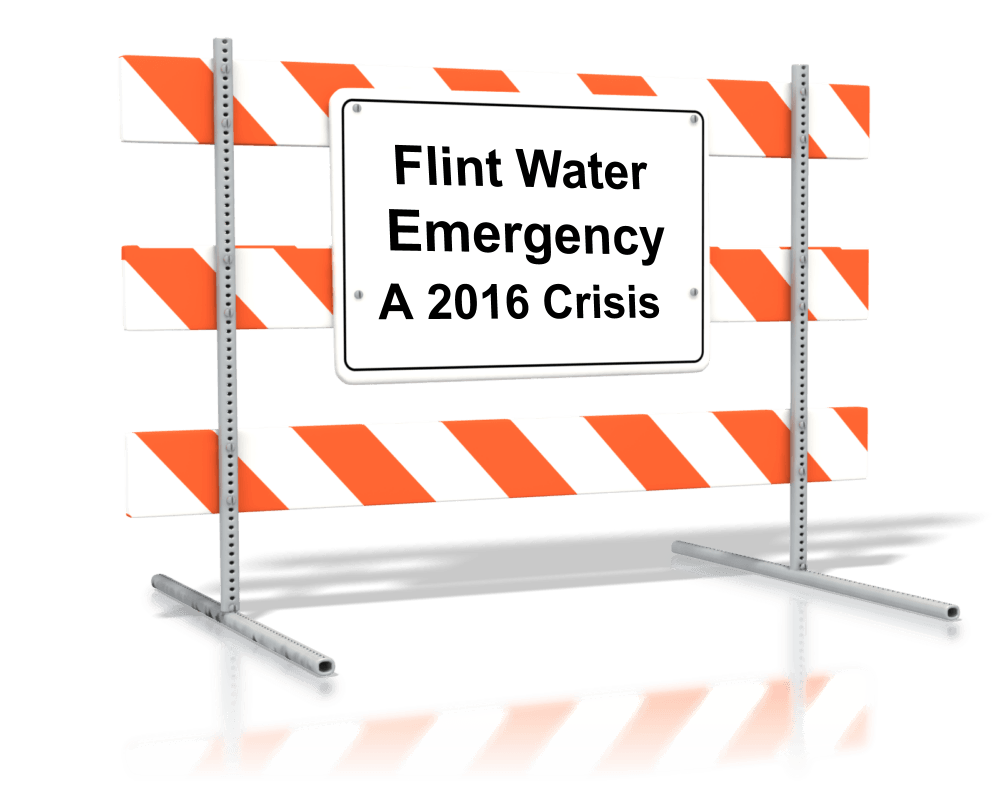 On January 16, President Obama declared the city of Flint, Michigan a state of emergency. The crisis began nearly two years ago, when the city decided to change water sources from the great Lake Huron to the notoriously polluted Flint River.
According to a class action lawsuit filed in November 2015, the state Department of Environmental Quality failed to treat the Flint River water with an anti-corrosive agent. This neglect, which was in violation of federal law, caused erosion in the iron water mains. Community members are said to "have experienced serious and in some cases life threatening and irreversible bodily injury; (incurring) substantial economic losses in the nature of medical expenses, lost wages; ...and non-economic damages in the nature of pain and suffering, embarrassment, outrage, mental anguish, fear and mortification, and stress related physical symptoms such as sleepiness, gastrointestinal discomfort, neuropathy and similar symptoms."
The National Guard was called in to help distribute water from resource centers. Celebrities have begun to chime in, like Michigan native, director Michael Moore, and civil rights activist Jesse Jackson, who each dubbed Flint a "crime scene." Cher teamed up with Icelandic Glacial and donated 180,000 bottles of water.
Although the use of lead paint was mainly discontinued after 1978, lead poisoning, long thought to have run its course in America's society, is still relevant today. The outrage of the Flint community is entirely justified, being that lead poisoning can be prevented on many levels. Beyond the leaching of rusty pipes, proximity contamination is spread through methods such as sanding, scraping or blasting, resulting in lead dust and paint chips becoming activated in air, soil and water.
With over 15 years of proven success, the ECOBOND® family of products has been extensively used throughout the US and internationally in successfully treating lead hazards in over 11,000,000 tons of material.
Proximity contamination sounds like it affects the immediate area surrounding a building or demolition site. It sounds like a problem that's limited and can be contained. But unfortunately, Flint, Michigan is the latest example of how far-reaching the effects of lead can be.
Lead in the Water
The problem of increased lead exposure in children throughout Flint can apparently be traced to a change the city made in 2014, when it stopped relying on Detroit for its drinking water and began drawing water from the Flint River.
A medical study released in September 2015 showed that after the change to the city's source of drinking, the proportion of infants and children with above-average levels of lead in their blood had nearly doubled.
Within about a month, the city made arrangements to return to Detroit as the source of its drinking water. And on December 14, 2015, Flint Mayor Karen Weaver declared a state of emergency, say the city was facing a "manmade disaster."
Lead Liabilities
Not surprisingly, at least one class-action lawsuit was filed earlier this fall. It is among the latest reminders that lead cleanup and mitigation is one of many things in life that needs to be done right the first time.
Lead poisoning is a real, if easy to ignore, danger. While it can be easy to overlook the danger, it is impossible to deny the consequences, and unfortunately, they are serious and long-lasting.
The news from Flint reminds us of the importance of what we do. We are passionate about protecting the environment and people, especially children, from lead hazards and believe - in spite of this news - that someday the prevalence of lead poisoning around the world will be but a memory.
Is Lead Paint Putting Your Children at Risk?
While many people will say that parents today are too overprotective, there is one common concern that is completely valid: proximity contamination from lead paint. Countless studies have shown that lead increases the risk of cancer, causes respiratory problems in children, and may even cause birth defects. Lead is seldom used today in toys, but many houses, businesses, and even playground equipment dating back to the 1970's used lead-based paint. This lead runs the risk of entering people's lungs, or even into local crop and water supplies.
Many homeowners have taken to having lead paint removed from their property. At an average cost of $15 per square foot, this can come to as much as $10,000 for the typical house. A common alternative to removal is to paint over the lead-covered surfaces with latex-based paint. This, unfortunately, does not seal the lead well enough to prevent proximity contamination by wind or rainfall, and airborne particles can still escape. What actually does work, is the paint by EcoBond LBP. Our paint is specially formulated to seal lead-based paint, preventing proximity contamination. We have been proven effective, and our paint is a cost-effective alternative to removal. Government contractors, industrial firms, and residential builders all enjoy our products.
Whether you are a homeowner or building contractor, if you are considering a lead cleanup or remediation project, please contact us with your questions