Patented lead paint treatment technology ECOBOND® - Lead Defender®, is the premier lead paint solution used to seal and treat lead paint in a Paint-it-on Leave-it-on® 1-step process.
Arvada, Colorado – August 8, 2017

ECOBOND®, LLC is proud to announce their newest distributor, UnbeatableSale.com where every day you'll find millions of high-quality, unique items you really want, at savings from 30% to 70% percent off retail prices.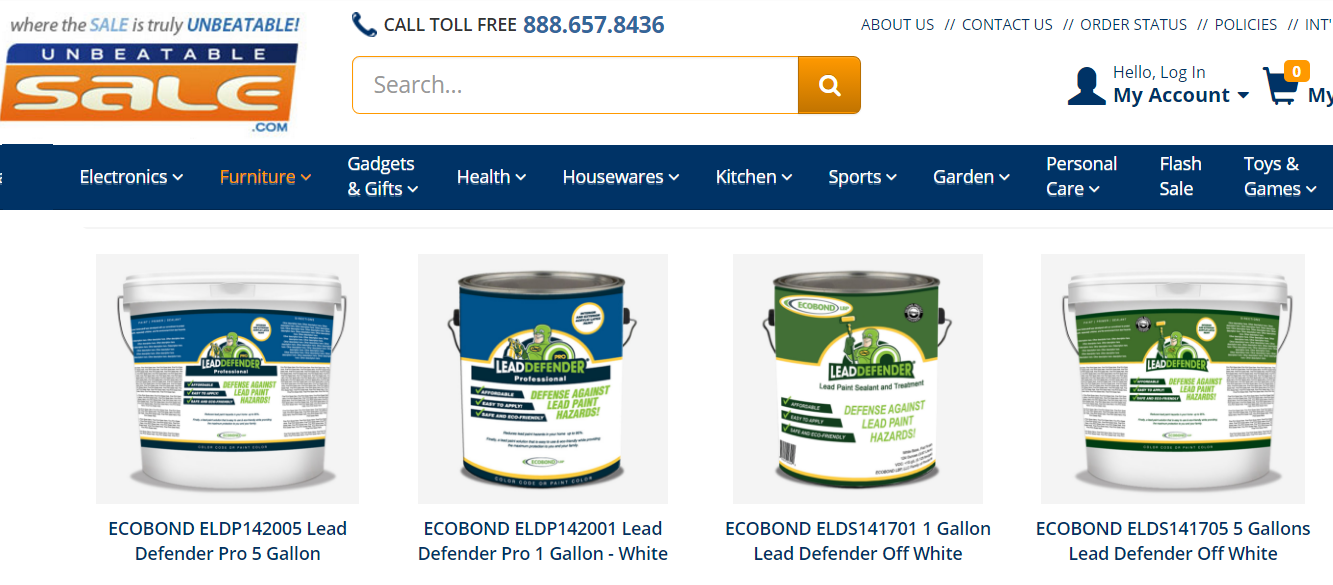 UnbeatableSale.com is a group of direct sales experts. Their management has a combined experience of over fifty years in direct marketing and consumer goods. They only offer products that are a true value and at prices that are simply unbeatable. Since their founding in 2004, they have continually conducted market research to ensure to surpass customer expectations in the merchandise they offer. They constantly review inventory to ensure the merchandise for sale is meeting ever-evolving consumer demands and preferences. Of the millions of items they offer, each is hand-selected with the customer in mind.
"We are passionate about helping families enjoy peace of mind from the dangers of lead paint when you use our proven & patented ECOBOND® family of products with lead paint treatment technology" stated James Barthel, President and creator of ECOBOND®.
ECOBOND®, patented lead paint treatment technology, is the premier lead paint solution and surpasses all other lead paint products because it is the ONLY product on the market that seals as well as treats lead dust and lead in paint. While lead poisoning can cause serious health problems for adults, children are especially vulnerable.
ECOBOND®, LLC is the nation's leader in developing and distributing products that improve the protection of human health and safety from the hazards of lead in the home, workplace, and the environment. With over 15 years in patented and proven success, the ECOBOND® family of products have been extensively used in successfully treating lead hazards in over 11,000,000 tons of material while serving over 100,000 customers in the United States and Internationally.