In this article, we are going to discuss the hazards of lead based paint and a revolutionary product to help combat those hazards which provides a safer environment for you and your family.
With the increased awareness of lead hazards in our communities, it is important to have a good understanding of the lead hazard and your options.
Lead paint is dangerous because lead dramatically affects the body in many ways including the potential for neurological disorders, decreased learning capabilities, shorter attention spans, speech and memory loss and the potential for decreased kidney and digestive & reproductive systems.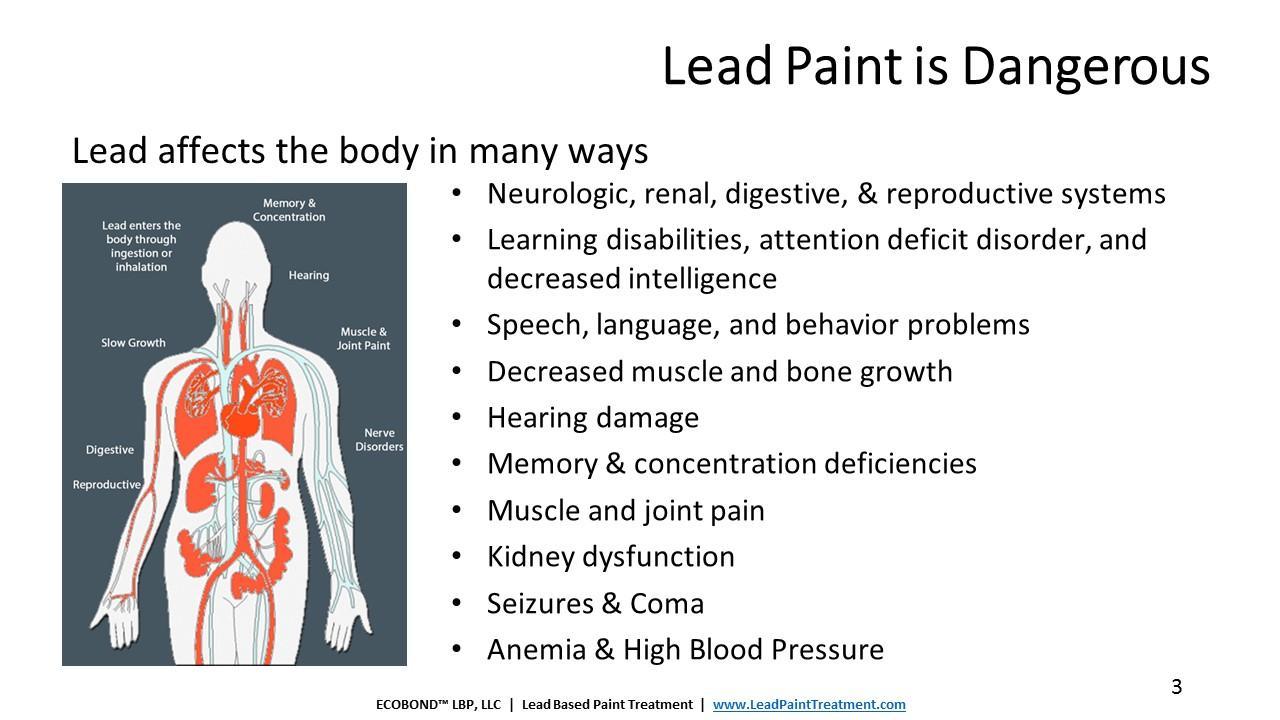 Additionally, lead has been shown to decrease bone and muscle growth, cause seizures, coma, anemia & high blood pressure.
Now, let's cover the methods for reducing lead hazards, there are two common methods which are:
Abatement

Interim control

And an exciting NEW category we are calling Treatment"


Abatement is designed to eliminate lead based paint or lead based hazards for up to 20 years. Abatement includes removing the lead based paint and dust, encapsulating the lead based paint or replacing the lead based components.
Interim Control temporarily (<20 years) reduces exposure to lead-based paint hazards through: repairs, painting, maintenance, special cleaning, occupant-protection measures, clearance and education programs.
Some of the typical activities include: paint stabilization, correcting dust generating conditions and creating smooth, cleanable horizontal surfaces.
Now, the next method takes interim control to the next level because ECOBOND® Lead Defender is our Patented Paint-it-on Leave-it-on® Formula which seals and treats the lead and lead dust in lead-based paint.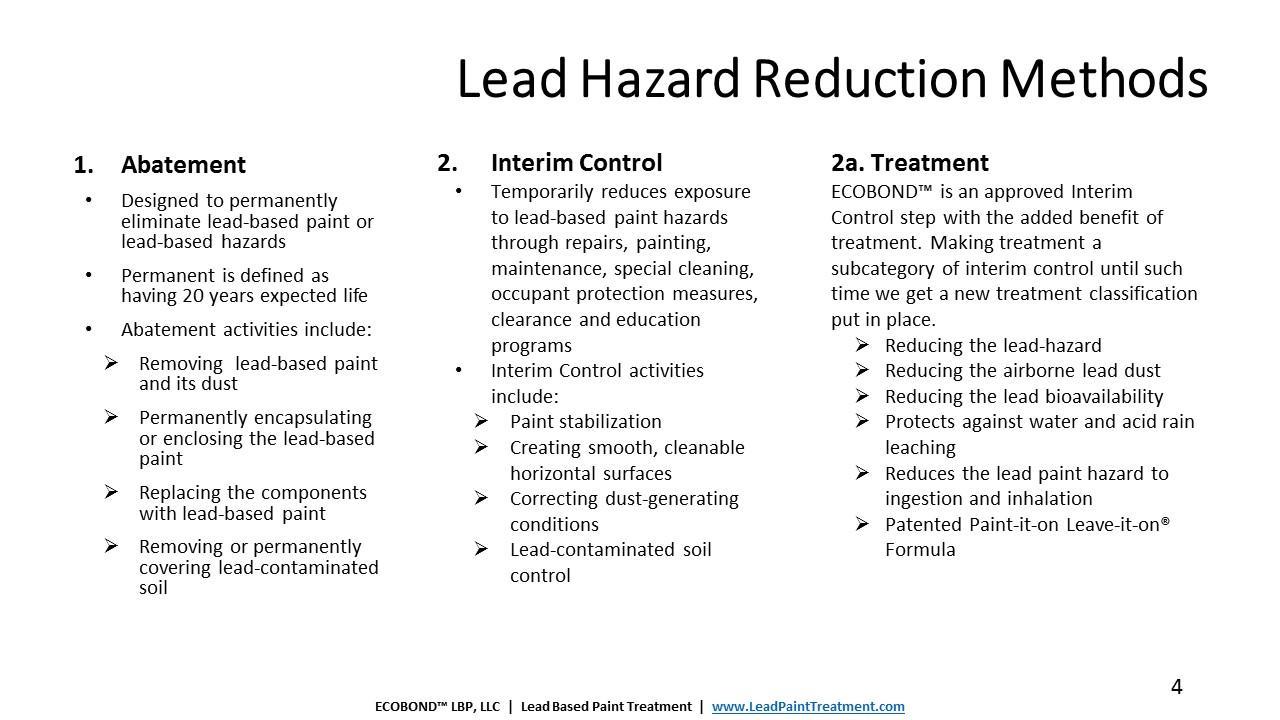 ECOBOND® Lead Defender is an approved Interim Control with the added benefit of being a "treatment".
It is a high-quality latex paint infused with a patented blend of specialty phosphates and paint penetrators designed to treat surface lead.
This results in a formation of a lead phosphate mineral that are resistant to acid and water leaching which will promote environmental and human health protection; including decreasing the bioavailability of the lead to humans and the overall ecosystem.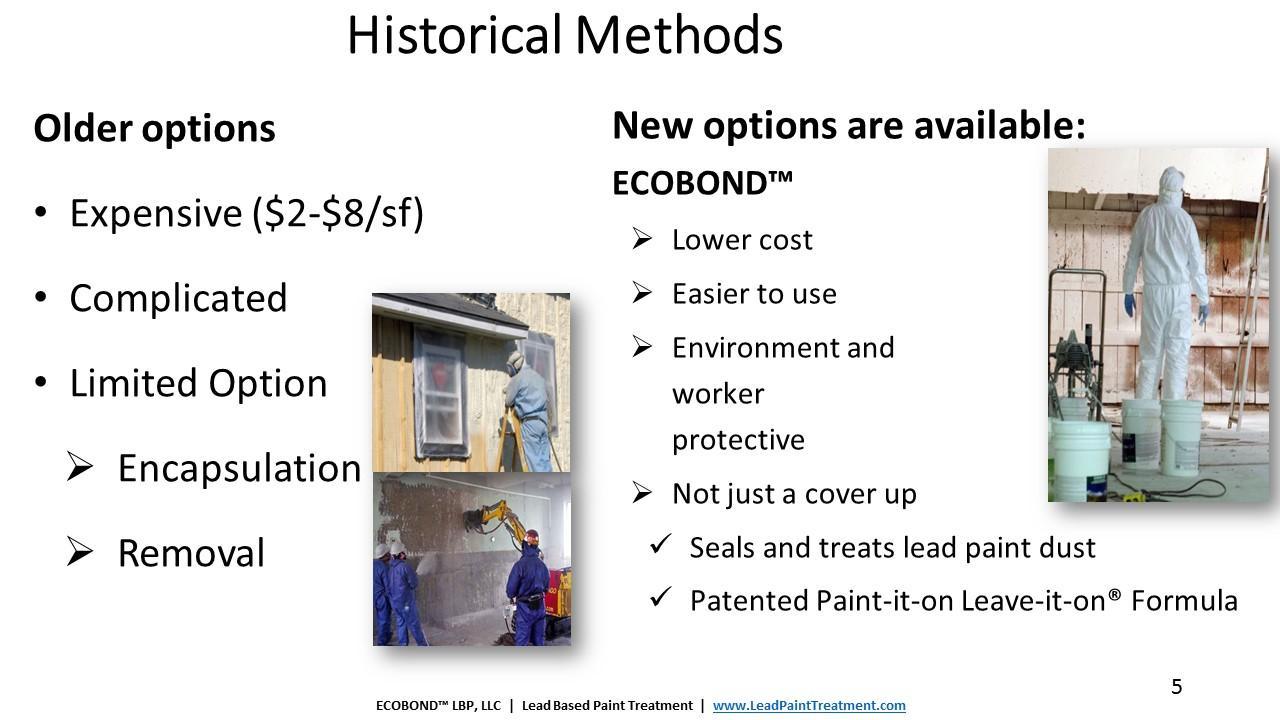 The older options can be expensive, ranging from $2 to $8 per square foot; require multiple coats which reduces your coverage and requires more product; can involve complicated application and lead disturbance, costly preparation materials and sometimes extensive manpower to remove the potentially hazardous waste.
Limited Options – Your only options were to:
Encapsulation – This is a method designed to encase the lead hazard after proper preparation and coat over it. Encapsulation does not treat the lead hazard in any way, it just seals it. If the area becomes exposed over time, or by being scraped, gouged, rubbed off, etc., the hazard is now exposed and must be encapsulated again.
Removal – This option is available for structures not desired to remain or are being replaced but is costly to properly handle, abate the lead, or dispose of as the waste is hazardous and cannot be landfilled just anywhere. You must follow all state and local regulations.
Our new ECOBOND® Lead Defender Treatment option provides:
Lower Cost – You are treating the structure and reducing the chances of hazardous ingestion and inhalation with one coat application, a robust 250 to 300 square feet per gallon usage and if disposal is desired, when coated, the structure can be disposed of in a non-hazardous way. Thus, eliminating costly hazardous landfill fees.
Easy to Use – Patented Paint It On, Leave It On® formula. Can be applied with a roller, sprayer or brush.
Environment and Worker Safe – The product has been tested through third party validation, meets specific safety regulations of EPA and HUD and has very low VOC's. It is water clean-up and has the option of the Bitrex enhancement added providing an extremely bitter taste to help add extra protection against a child ingesting a lead hazard contaminated chip or piece.
Not Just a Cover-up Product – As compared to encapsulants which just cover lead, ECOBOND® Lead Defender™ seals and treats the lead hazard.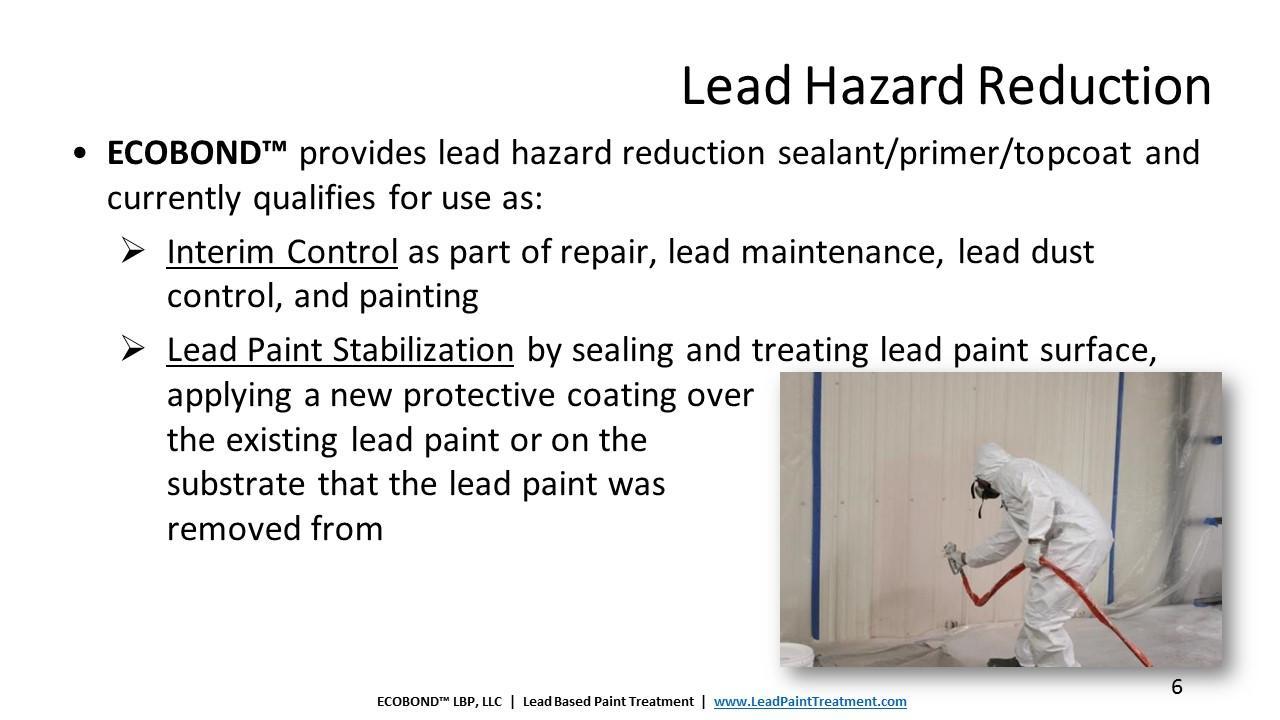 ECOBOND® Lead Defender™ is a lead hazard reduction sealant, primer & topcoat which currently qualifies for use as an Interim Control as part of repair, lead maintenance, lead dust control and painting.
Lead Paint Stabilization is achieved by sealing and treating lead paint surfaces with ECOBOND® Lead Defender™, applying a new protective coating over the existing lead paint or on the substrate that the lead paint was removed from.
Understanding the Options for treating lead paint:
ECOBOND® Lead Defender™ is a Paint-it-on-Leave-it-on patented specialty paint, primer and sealant product that seals and treats lead dust and lead-based paint. ECOBOND® Lead Defender™ provides enhanced safety protection with a multi-purpose, low cost solution which is specially designed to provide broad lead based paint solutions with excellent coverage.
The typical options for treating lead paint are:
#1 Encapsulants which provide a barrier between lead and the environment. Generally, this is a thick product requiring multiple coats and is often difficult to apply and is more expensive due to low coverage rates.
#2 Paint Strippers which are a liquid or paste, often very caustic, and are used to remove paint from a surface. But the paint removal is very costly, potentially dangerous to health, time intensive and creates hazardous waste, then would require a primer or a sealant.
#3 Standard Latex Paint which is easy to apply, but not specifically designed to treat or seal lead based paint.
But now there is a preferred solution. ECOBOND® Lead Defender:
Reduces Lead Hazards up to 99%

EPA Method 1311

Reduces Airborne Lead Dust up to 99%

ASTM E1613-12

Reduces Lead Bioavailability up to 85%

EPA 9200.1-86

Now includes Bitrex® a bitter-tasting additive to discourage oral contact!

Protects against Water and Acid Rain Leaching

Is Mold & Mildew Resistant

ASTM D5590-00 modified

Is Fire Resistant

ASTM E84

Has excellent Hiding Power

Has excellent Adhesion

Can be used for Interior & Exterior Use with Smooth Texture & Finish

Has very Low Odor

Is tintable with up to 4 oz. of Universal or Water Based Colorant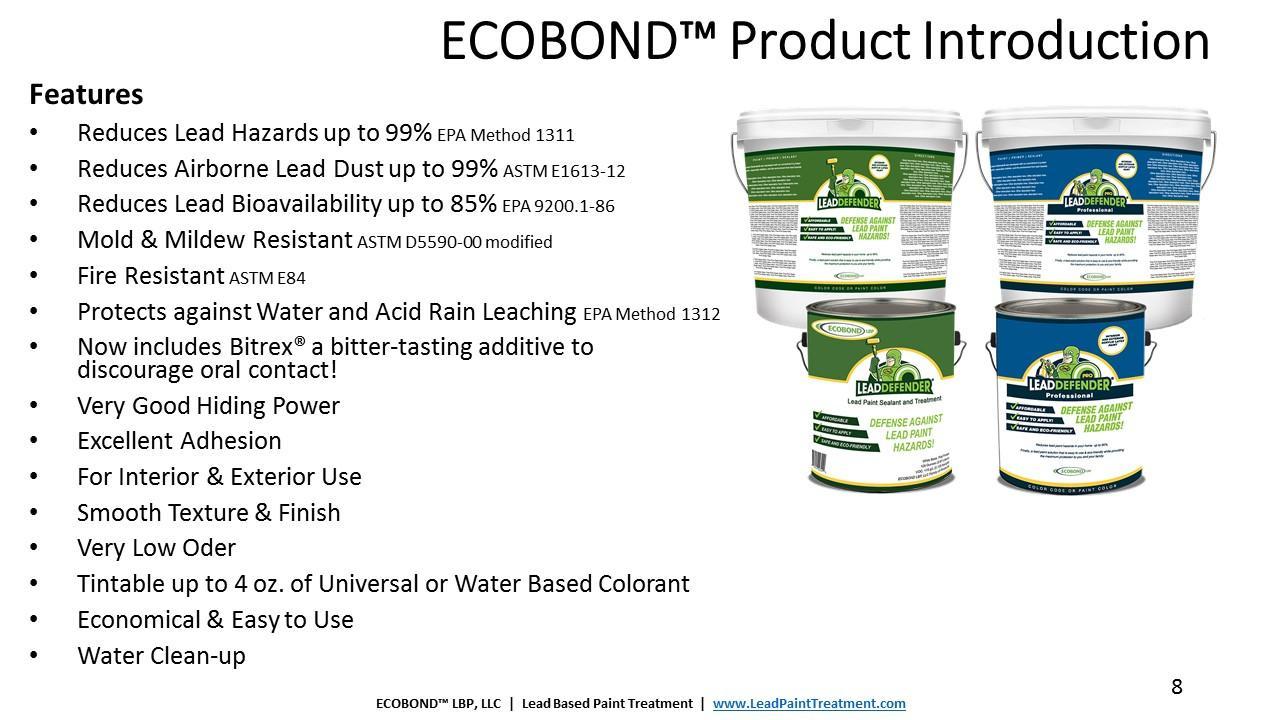 ECOBOND® Lead Defender is Economical, easy to use and is simply cleaned up with water
ECOBOND® Lead Defender is easily applied with:
An Airless Sprayer – Recommended tip size .017 to .031

A traditional High quality Roller with ½" to ¾" nap

Or a Nylon/polyester blend Brush
Make sure to Mix thoroughly for 1 to 3 minutes prior to use with a mechanical mixer or drill powered mixer to ensure proper product performance. The Coverage Rate will be 250 to 300 square feet per gallon with a Dry Time of 2 to 4 hours to the touch and 4 hours for recoating
ECOBOND® Lead Defender can be used on Wood, drywall, plaster, steel, masonry, concrete & asphalt on Industrial facilities, DOT, structures, Commercial Offices, commercial buildings, apartment complexes, recreation centers, Residential Homes, parks & playgrounds, and more!