ECOBOND® LBP's NEW & IMPROVED Paint-it-on Leave-it-on® Lead Paint Sealant and Treatment Formula is Now Lower Cost, Easier-to-Use and Even Safer for Your Family!
After extensive research and development, we had an amazing breakthrough and have enhanced our proven and patented formula to bring you a lead paint sealant and treatment solution with these upgraded features:
Cheaper:

Breakthrough technology allowed us to lower the price!

Safer:

VERY Low VOC! (less than 15 g/L) & protects against acid rain.

Smooth finish:

Allowing you maximum versatility and quality on your projects!

Maximum adhesion:

Reducing prep time and can be used on more types of surfaces!

Tintable:

Opening up a wide-range of color combinations!

Low odor:

No smell to inconvenience your family!

Easier to Use:

Application with standard paint sprayer, brush or roller!

Superior lead treatment capability.
Our Patented Technology is more effective than it has ever been, and to better represent our commitment to "Defend People and the Environment From the Dangers of Lead", we trademarked a new product name: "Lead Defender®".
ECOBOND® LBP Lead Defender® is specially formulated with patented lead treatment reagents made with food-grade additives to take advantage of the natural binding properties with lead. This proprietary blend provides advanced human bioavailability reduction, in case of accidental ingestion of the treated lead paint dust and chips. (your specific results may vary)
Third party independently documented test results utilizing US EPA method confirming the effectiveness of ECOBOND® LBP in protecting human health.
Compare the ECOBOND® LBP original formula to the NEW & IMPROVED ECOBOND® LBP Lead Defender®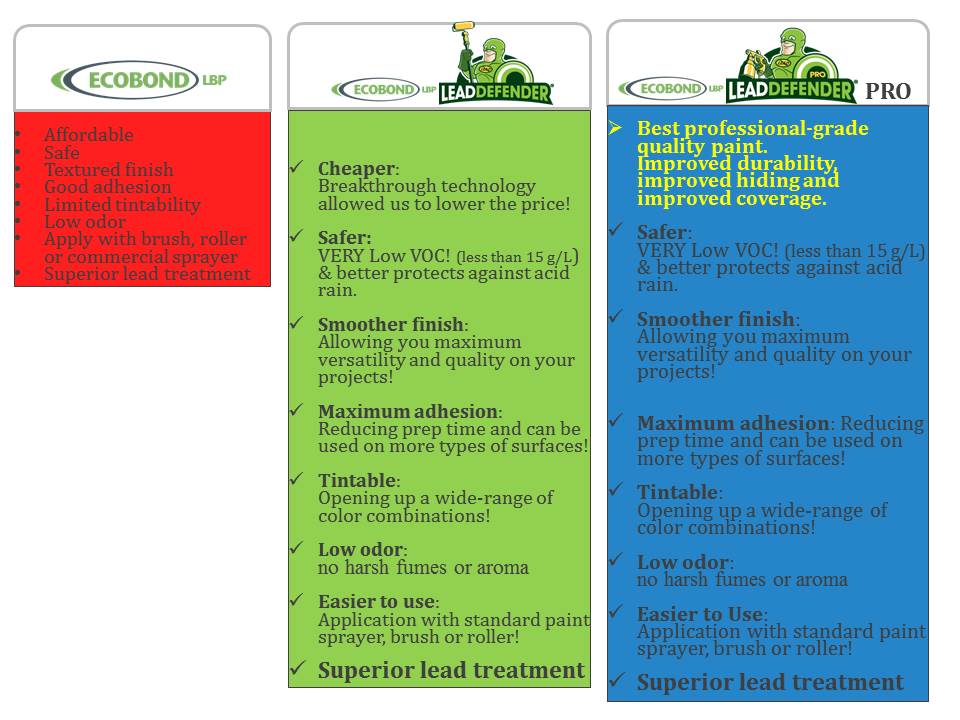 ECOBOND® LBP Lead Defender®'s patented lead sealant and treatment formulacontains an advanced technology thatseals and treats the lead and lead dust in lead-based paint. The formula includes lead treatment reagents, paint penetrators and high quality water based paint providing up to a 95% reduction in lead hazards* and controls the spread of airborne lead dust by up to 99% and now resists acid rain.**
To further protect the environment, ECOBOND® LBP Lead Defender® contains the same proprietary blend of minerals which have been proven to be substantially resistant to environmental leaching breakdown. This provides protection against acid rain water and leaching in landfills or around physical structures that are coated with lead based paint.
This ensures that surrounding areas and the community are protected from Proximity Contamination.
ECOBOND® LBP Lead Defender® can be used as an All-in-One interior primer, lead sealant and top coat, or as an exterior primer and lead sealer prior to application of standard exterior topcoat which better resists acid-rain! It is ideal for home, office, commercial facilities, schools, Industrial factories, and DOT structures.
ECOBOND® LBP Lead Defender®'s improved adhesion on lead paint surfaces and unique Paint-it-on Leave-it-on® formula can be used on a variety of properly prepared surfaces, including (but not limited to):
Wood
Drywall/Plaster
Masonry
Brick
Metal
Concrete
Asphalt
Learn how ECOBOND® LBP Lead Defender® Lead-Based Paint Sealant and Treatment is different than Encapsulants! Why Just Cover it When You Can Treat it!
Download free Industry Report: http://www.LeadPaintRemovalReport.com
* EPA Method 1311: Reduces lead hazards by up to 95%
** ASTM E1613-12: Reduces airborne lead dust by up to 99%
*** EPA 9200.1-86: Reduces relative lead bioavailability by up to 75%
****EPA Method 1312 Better resists acid rain up to 98%