A study, provided first to POLITICO, estimates that 15.2 million students were enrolled in school districts that discovered lead-based paint in their buildings. Lead from paint, including lead-contaminated dust, is among the most common causes of lead poisoning, according to the Environmental Protection Agency. Exposure is particularly hazardous for children, whose growing bodies absorb more than adults, the report notes.
Observations:
This is a relevant issue

- Lead paint is often seen as an issue of past times. Lead paint was an issue mostly from the 1970s, and the use of it was banned in 1978. Many structures, buildings, houses, property management, schools, etc... have worked to remove lead paint from their establishments. This news story shows that lead paint is very much still around and still needs to be taken as a serious concern right now.

This is dangerous

- Exposure to lead dust and lead paint is dangerous to anyone. The CDC states that lead exposure can affect nearly every system in the body. Seeing a story like this appear in an elementary classroom setting though is what sparked much shock. The CDC also points out that "exposure to lead can seriously harm a child's health, including damage to the brain and nervous system, slowed growth and development, learning and behavior problems, and hearing and speech problems".

This is preventable

- Because of the inadequate responsibility, schools now are having to address relocation, remediation, and potential health issues with the students (and upset parents). This could be prevented with proper lead cleanup from a contractor and ensuring there wasn't a source of lead exposure, to begin with.

There are valid cost-effective solutions

: Lead paint can be effectively remediated and treated. When done properly there is no health risk, and the buildings can be used as intended. A contractor who is suitable should have experience, is compliant with EPA and HUD requirements, and makes safety a priority, can ensure these issues do not occur.
Whether you are a homeowner or landlord, you will typically have three options when dealing with lead paint:
Abatement (this is the most expensive)
EPA-approved Interim Controls such as encapsulation, or regular latex paint.
Treatment-this is the safest and most cost-effective option.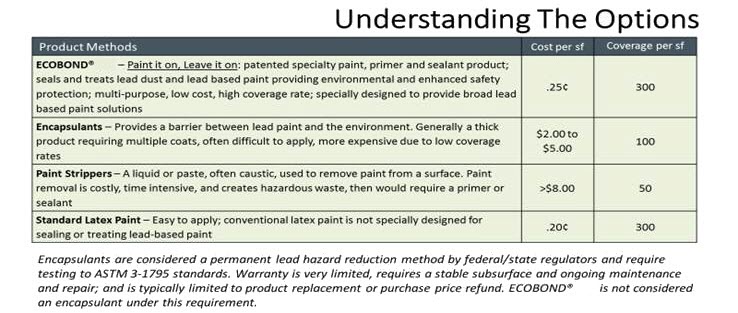 Removing the lead paint danger completely from the home often does take more time and money than encapsulating, but it is a much better long-term solution to lead, especially if children under the age of 6 visit your home or live in your home. Lead is a dangerous neurotoxin, especially to young children.
Encapsulation is a viable method for areas that are free of contaminants, cracks, and moisture. They must be applied at a specific humidity and temperature. The disadvantages are that the encapsulant may peel off and expose lead paint, leaks may damage encapsulants, and they require constant maintenance and monitoring to ensure that they are not leaking dangerous lead into the environment.
Regular Latex paint may seem like a good option since it is cheap, but while you may feel good that you covered up the problem, the lead is still there. Plain latex paint temporarily covers the lead paint issue, but as you can imagine, the dangers lurking under the surface quickly re-surface!
Treatment
Our lead paint treatment product does more than just "encapsulate" the lead and of course is the better option over regular latex paint with no protection whatsoever.
ECOBOND® - LeadDefender® seals and treats the lead and lead dust in lead-based paint, the molecules in our paint chemically bond to the lead when in contact with it, rendering the threat of airborne particles or damaged surfaces dramatically reduced. That way you know that your family is safer--and you'll save some money looking at thousands of dollars in costly removal fees. And we all know that when you're considering the safety of your family, nothing short of the best will do.
ECOBOND® Paint LLC is the Premier Provider of Environmental Products focused on protecting human health from the dangers of lead. Enjoy Greater Peace of Mind from the Dangers of Lead Paint When You Use Our Proven & Patented ECOBOND® Family of Environmental Paints! Now includes Bitrex® a bitter-tasting additive to discourage oral contact!

To learn more visit www.ecobondlbp.com, view our lead paint treatment video or download our free Industry Report: http://www.LeadPaintRemovalReport.com