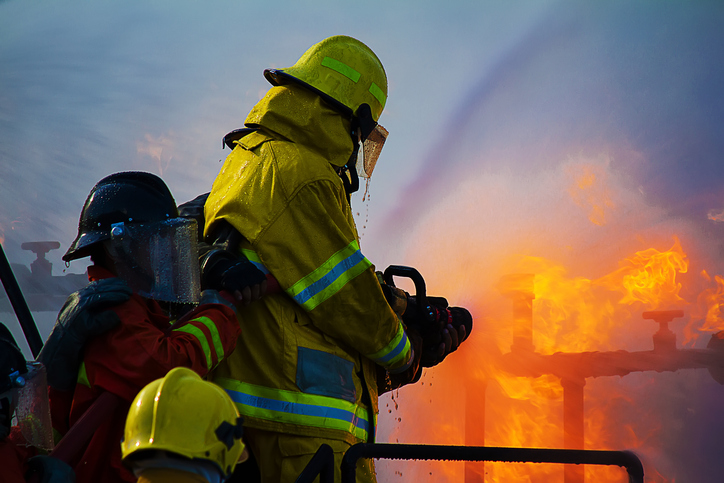 Both commercial and residential buildings must meet stringent safety regulations during any construction project. One of the most crucial categories is fire safety for paint products, and the type of paint you use can make a big difference.
How do fire-resistant paints make buildings safer?
Most materials cannot fully quash flames in the event of a fire. Instead, most buildings are constructed with systems of passive and active responses to fires that create a layered response. Passive fire protections, such as ECOBOND® Lead Defender® and Lead Defender Pro® paints, are designed to slow the spread of an ongoing fire; active systems like fire sprinklers, on the other hand, try to suppress or weaken the fire.
This is why flame-resistant materials are rated for elements like flame-spread, thermal protection, and smoke development, as well as the durability and color demanded from other paint and construction materials. The more contained a fire is, the less damage there is to the core structure and the overall building and the less danger there is to people evacuating the building.
What can ASTM E 84 requirements tell you about paint quality?
Out of many industry tests used to investigate the safety of various materials in the event of a fire, ASTM E 84 specifically measures the rate at which flame can spread. Materials are measured against the flame spread and smoke production of a red oak standard and are put into Class A, B, or C accordingly, with Class A being the most effective at both slowing the progression of flame and having low smoke development. ECOBOND® Lead Defender® and Lead Defender Pro® paints ranked at the top level of Class A.
Break Down the Ratings on Your Paint
A lot of paint companies offer a variety of features behind just bright colors: some estimate the duration of their paint, while others offer ratings based on water resistance, mildew-blocking, lead protection, and more. If you're evaluating the fire resistance of your paint, whether for residential walls or a new commercial complex, make sure you know the quality of what you're getting.
What are NFPA tests and classes?
The National Fire Protection Association, or NFPA, is a global organization that holds tests and investigations into the fire safety of different materials and different combinations of materials that might be used in future construction projects. These tests can range from the combustibility of insulation materials to how likely it is fire can spread to adjacent, unconnected buildings. For example, Code 703 of the NFPA requires flame-resistant materials to undergo an NFPA 255 test to determine a rating or class of effectiveness.
What does NFPA 255 measure?
NFPA 255, or the Standard Method of Test of Surface Burning Characteristics of Building Materials, was originally created by ASTM (and is referred to by that organization as ASTM E 84) and Underwriter Laboratories (UL) as UL 723. No matter what it's referred to as on your selected paint, the test measures both resistance to the spread of flame and smokiness. Based on the degree of resistance and how little smoke is produced, which are the ideal characteristics of paint designed to slow down or stop the spread of a fire, the test categorizes materials into three different classes:
Class 1, or A, has a 0 to 25 score on flame spread, and 0 to 450 score on smoke development;
Class 2, or B, has a 26 to 75 score on flame spread, and 0 to 450 score on smoke development; and,
Class 3, or C, has a 76 to 200 score on flame spread, and 0 to 450 score on smoke development.
The scores are compared to red oak, which has a score of 100, and cement, with a score of zero.
ECOBOND® Lead Defender® and Lead Defender Pro® paints have scored zero in both flame spread and smoke development, which makes it one of the most flame-resistant materials available.
Paint and Fire Resistance: Another Layer of Protection
Fire resistance is defined as the treatment of a surface, so it will not catch fire easily. Fire resistance can protect a structure from both heat transfer and structural damage in defined fire conditions known as "standards". These standards define things such as temperature, material, and other factors and allow consistent measurement and reporting. Flame resistant coatings, such as paint, may "prevent ignition & flame spread, prolong escape time", and lessen fire damage in the industrial setting.
Industrial fires can cause destruction and casualties!
According to the National Fire Prevention Association (NFPA) "Fires in Industrial or Manufacturing Properties" report, there were approximately 37,000 industrial fires reported in the US in 2016. Annual loss estimates from industrial fires include approximately 300 casualties; which includes injury and death, and $1 Billion in property damage.
Although only 20% of the industrial fires reported in 2016 were structure fires, these fires caused a disproportionate amount of damage resulting in:
Nearly half (47%) of all industrial fire-related civilian deaths.
82% of civilian injuries.
69% of direct property damage.
Best Practice Guidelines for Structural Fire Resistance Design of Concrete and Steel Buildings by the National Institutes of Science and Technology (NIST) recognizes applied coatings as one form of fire protection for structural components. Known as passive fire protection, these coatings are significant in the science of fire damage mitigation and have even been known to protect structural integrity during a fire.
As with environmental issues, fire mitigation is regulated by federal and other entities such as the Environmental Protection Agency (EPA) and the Occupational Safety and Health Agency (OSHA). Be sure to contact your federal, state, and local authorities for regulatory requirements for maintenance, construction, demolition, and hazard remediation in industrial structures. A good place to start? Try the Construction Industry Compliance Assistance (CICA) compliance summary tool for local guidance on regulated issues such as lead abatement.
Did You Know?
ECOBOND® Lead Defender® products are lead-free and meet the American Society for Testing and Materials standard* (ASTME84) for fire resistance and is considered to be a National Fire Protection Association (NFPA)/BC Class A Coating."
LeadDefender® has been proven in the marketplace for over 10 years; recently a comprehensive scientific study following US EPA test methods was conducted by an independent laboratory to validate LeadDefender®'s proven ability to seal and treat lead paint hazards under a wide variety of uses including 1) All-in-One Primer and Topcoat, 2) Primer + Name Brand Latex Topcoat, 3) Primer + Standard Epoxy Encapsulant, 4) Sealant and Treatment Prior to Demolition and Disposal, 5) Prior to Disposal.
Always read the product carefully, and make sure it does what you want it to do before you begin applying it. Otherwise you may find your project just became significantly more complicated and expensive.
To learn more, download our free Industry Report: http://www.LeadPaintRemovalReport.com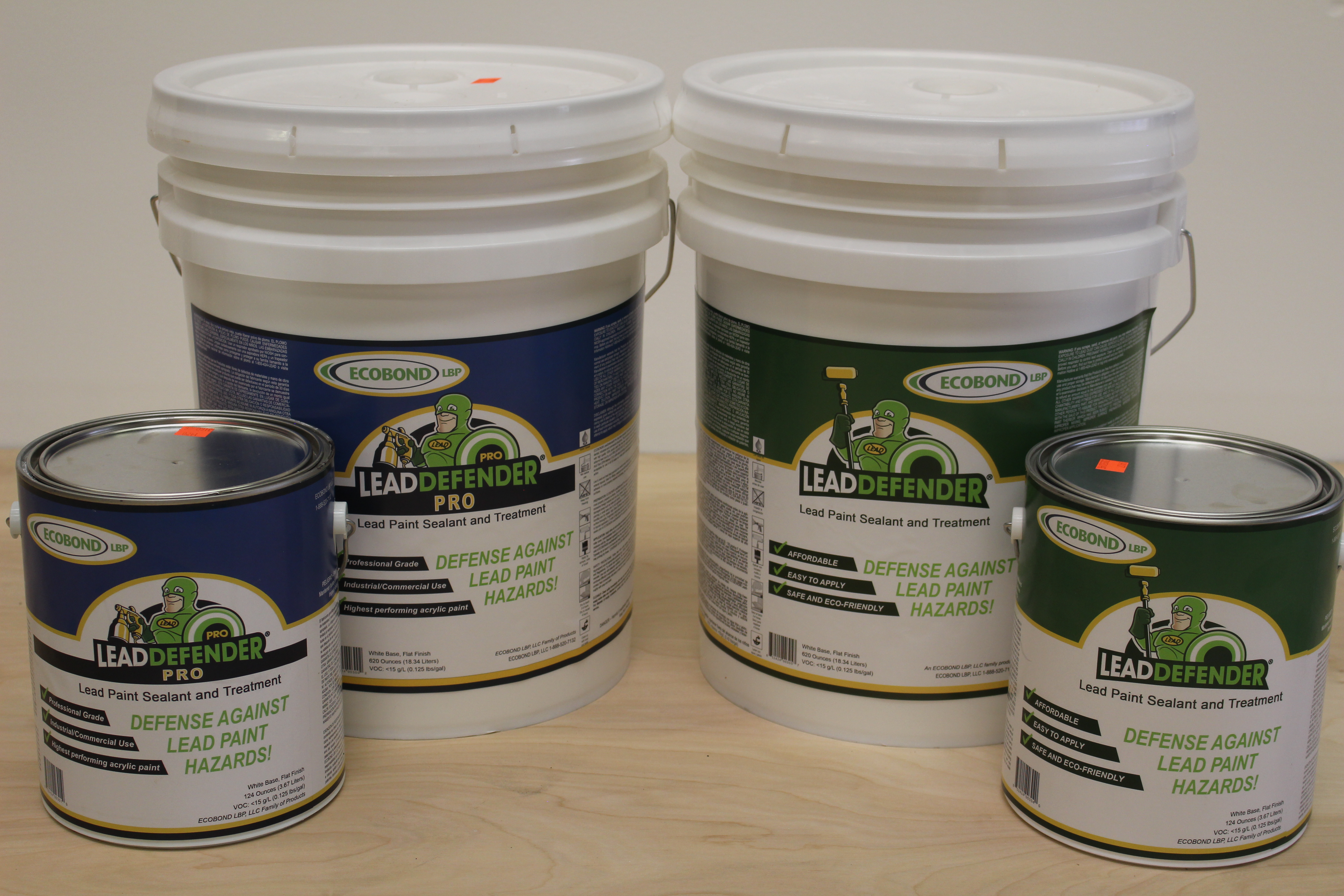 *ASTM Disclaimer 1.8: This standard does not purport to address all of the safety concerns, if any, associated with its use. It is the responsibility of the user of this standard to establish appropriate safety and health practices and determine the applicability of regulatory limitations prior to use. It is recommended that you check with all local and state regulatory agencies to validate what testing is required (if any) for your use. Test results may vary based on your specific application. Testing on a small test-area in advance can be beneficial.