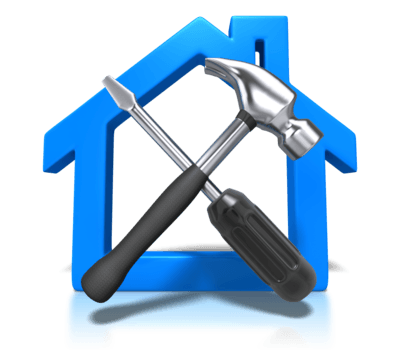 Home renovation can be daunting when your to-do list starts to grow. Hiring experts to help can be expensive and waiting for them to have availability can delay your schedule by weeks or even months.
While renovations involving plumbing and electricity are usually best handled by professionals, there are plenty of other projects you can handle without calling in the pros. Check out these DIY projects that even a novice can handle.

Paint your space
This sounds obvious, but repairing minor imperfections in your walls and getting a fresh coat of the right paint is one of the most impactful projects you can do to improve your home.
Spend some time in each room you want to update taking notes on any cracks, nail holes, or rough spots you want to touch up, and do some research on colors that will work in your space.
Even if you're only planning to paint one room, invest in the mid- to high-range painting supplies like decent brushes, a safe ladder or brush extension, and quality painters tape. Your results will look more professional and you'll save time and frustration.
A good rule of thumb is to give yourself three half days for each room: one day to patch and prep the walls, one day to apply two coats of paint with drying time in between, and a final day for touch ups and trim.
Dangers of Lead Paint
Healthy Homes estimates that between 25% and 40% of homes throughout the U.S. still contain lead based paint. In other words, there are thousands, perhaps even millions of families at risk of health concerns related to lead paint.
Both adults and children are at risk of experiencing serious symptoms associated with lead paint exposure. Small children may become exposed if they happen to ingest cracked or peeling chips of paint containing lead. They may also be tempted to chew on surfaces containing lead paint, such as window sills. In addition, both children and adults can experience exposure since lead paint creates a talc-like powdery substance as it deteriorates, which puts you at risk of inhalation. Attempting to remove lead paint on your own can exacerbate these issues. The good news is, home owners and residential contractors alike can manage lead paint removal with our NEW & IMPROVED Paint-it-on Leave-it-on® Lead Paint Sealant and Treatment Formula which is Now Lower Cost, Easier-to-Use and Even Safer. Fortunately, ECOBOND® - Lead Defender® serves as part of a well-planned program. When sealing & painting over lead paint becomes a necessity, our product will treat paint containing lead when applications remain on walls. If removing paint from those walls is necessary, lead dust is effectively rendered as non-hazardous and safe for removal.
Give your bathtub new caulk
Over time caulking tends to shrink, leaving gaps around the shower and bath that can lead to expensive water damage. Cracked or aging caulk can also harbor mildew and bacteria leaving your tub smelling musty or looking dirty.
A professional handyman could charge over $100 to redo your whole tub, while investing in the materials should cost you about $25 for tubes of caulk and the application tool plus a few hours of your time.
While cutting out the old caulk and piping in new material doesn't require special skills, a polished look might take a little planning and some trial and error, so give yourself time and permission to make mistakes at first.


Freshen up your cabinets
Buying and installing all new kitchen cabinets is expensive and can be tricky to get just right. Instead of totally replacing outdated cabinets, consider refacing them with new doors, painting them, and adding new hardware.
You might even consider removing the doors, giving the interior a fresh coat of paint and enjoying your trendy new open-shelving concept. Keep in mind that painting cabinets will be different from drywall or wood trim, and that replacing cabinet doors might mean installing new hinge mechanisms.
Neither task is difficult, but you may need to research the supplies and techniques that apply to your specific cabinet materials.

Try new tile
Tile sounds daunting, but if your bathroom or entryway floors are damaged or dingy, small areas of tile can make a big impact and are a manageable project to tackle before you commit to DIY tiling a kitchen or fireplace.
First, get familiar with the process and watch how the different steps take place. The list of supplied looks a little long at first, but they're mostly affordable and you may already have some items like goggles, a level, and a trowel in your tool box.
It's often possible to rent a tile saw for a weekend from a hardware store and you may be able to get a package deal if you purchase tiles and rent the saw at the same time. Tiling is fairly messy for first-timers, so clear the area well and wear your work clothes.

Update the outdoors
Landscaping a garden or yard yourself can save you thousands while increasing your curb appeal. Figure out which areas of your outdoor space you want to focus on and tackle one area at a time. It can be tempting to make a master plan and order all your dream plants at once, but it's better to make sure anything you purchase is replanted quickly and carefully.
Reasonable sized projects include putting in one or two new flower beds with good compost, attractive plants, and fresh mulch. Or, if you have the strength for some heavier lifting, take a long weekend to install a paver patio by leveling the ground and placing wide, flat stones in an attractive pattern.
Make sure you always call before you dig to avoid hitting electrical lines or other underground utilities.

Thanks to the internet, it's easier than ever before to learn about DIY home renovation and take on improvement projects without the expensive help of professionals. Make sure to spend a little time researching the techniques you will be using, but don't be afraid to jump in and try these projects. Everyone makes mistakes their first time, but the satisfaction you'll feel will be well worth the time you spent.
Jessica Kane is a professional blogger who writes for Scaffold Store, the favorite and trusted scaffold supplier of the largest contractors.