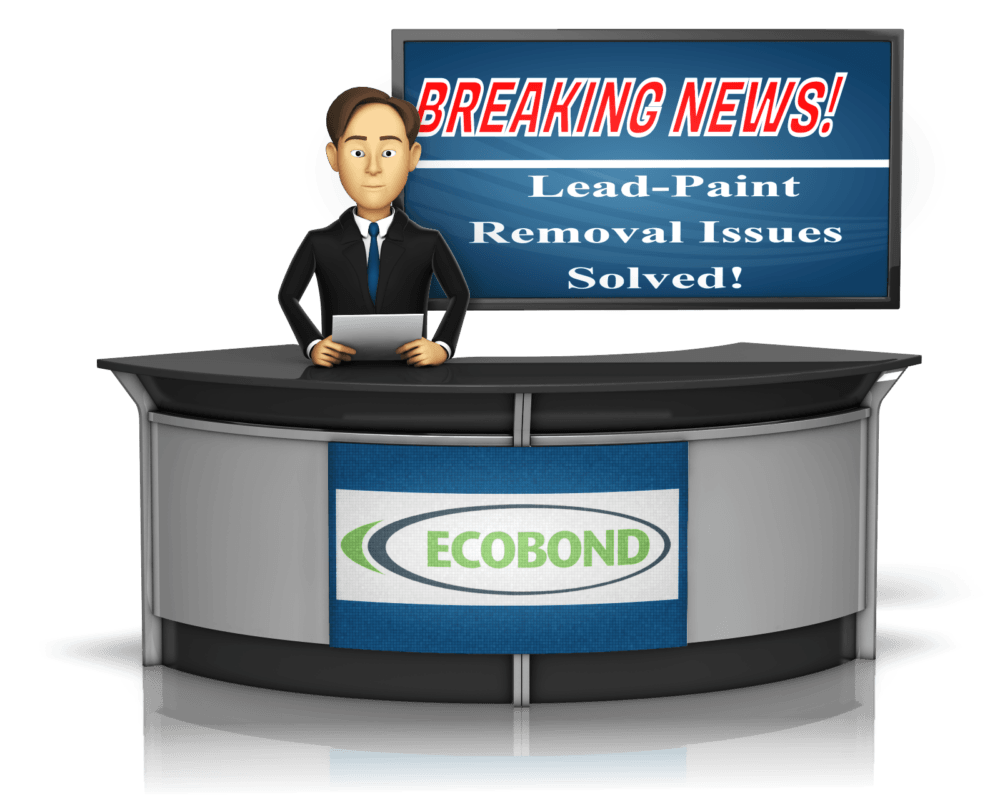 While it seems that all we see and hear in the news are the negative aspects of lead in our water and homes, there is a solution when looking for viable lead paint treatment options. Landlords can enjoy peace of mind in protecting their tenants from the dangers of lead paint with our proven & patented ECOBOND® family of products!
In Western Massachusetts, four landlords were recently fined due to violating fair housing act laws, The Amherst Bulletin reports. According to the report, the landlords and property management properties tried to avoid renting to families with children due to the presence of hazardous lead paint in the rental units.
The law requires landlords to rent to families when dangerous levels of lead paint are present in the unit. Before the families moving in, the landlord must remove or clean up the lead paint in the home to make it safe for younger children. Landlords prove the safety of the unit, and suitability for children, by passing an inspection and getting a lead certificate that proves its safety.
There is good news that comes from these violations, some of the landlords in violation of the law are cleaning up their act. Some of the companies reported they'll be looking to actively de-lead their units and will be working to create more rental properties without lead paint for families with children.
While these are isolated cases, they do happen from time to time, and many times, because landlords may not know that there is a solution readily available and very affordable that can help them solve this issue before it becomes a problem.
ECOBOND® LBP - Lead Defender® seals and treats the lead and lead dust in lead-based paint with a paint-it-on leave-it-on application. Now treat the lead for improved safety! www.EcobondLBP.com
Lead Paint News: Children's Exposure in Oakland, CA Concerns City
A recent lead paint contamination study has officials in Oakland, CA concerned. A report published by Reuters last month indicated that Oakland has one of the highest child lead paint exposure rates in the US, greater than in Flint, MI. Unlike in Flint, the lead paint exposure primarily comes from lead paint on walls, not in the water.
Of particular concern in the report is Oakland's Fruitvale neighborhood (zip code 94601), where 7.57% of children tested for elevated levels of lead paint, which is higher than 5 mg per deciliter, a significantly higher rate than the 2.5% national levels.
The report indicates that much of the danger comes from old homes and apartment buildings in the Fruitvale neighborhood, where around 90% of the housing stock was built before lead paint was banned in 1978. Fruitvale is a lower-income community, so the majority of residents rent.
Fortunately, there's hope for the children living in Oakland, as the city and the state of California want to help these kids live in an environment that is safe for their health and well-being. In one recent example, a 55-unit apartment building with at least 20 children under six in residence received a grant to clean up the apartment complex after it was discovered the unit had numerous lead paint hazards.
For buildings built before 1978, there may be potential existence of lead paint. With the right plan, landlords can make sure that families can live safely in their units.
ECOBOND™ is the nation's leader in developing and distributing products that improve the protection of human health and safety from the hazards of lead in the home, workplace, and the environment. With over 15 years in patented and proven success, the ECOBOND™ family of products have been extensively used in successfully treating lead hazards in over 11,000,000 tons of material while serving over 100,000 customers in the United States and Internationally.
To learn more visit www.EcobondPaint.com to view our lead paint treatment video or download our free Industry Report: http://www.LeadPaintRemovalReport.com