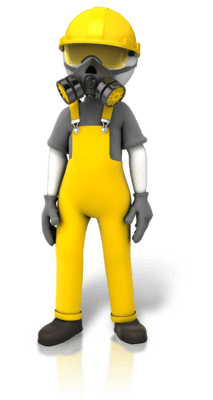 Lead has been used in a variety of ways for centuries, from building materials to gasoline. Widespread use of this toxic substance, however, creates widespread health risks. According to the University of Maryland, lead poisoning is the oldest recorded occupational disease.
The health effects of lead include coma or death at the highest levels, but even low levels can affect the body in many ways, causing damage to the brain, blood cells, or kidneys. Lead poisoning can cause miscarriages in pregnant women, and has been linked to learning disorders in children. Symptoms of lead poisoning in adults include fatigue, headaches, joint pain, and irritability. Because of these symptoms, lead poisoning is often misdiagnosed.
Many lead-containing materials, such as paint, can shed dust particles that become airborne. In this form, lead is easily breathed into the lungs or absorbed into the skin. In fact, the U.S. Occupational Safety & Health Administration (OSHA) reports that breathing in lead dust is one of the most common causes of lead exposure among adults. Because of this, it is highly important to control lead dust during industrial and commercial projects.
Columbia University in New York has published a list of guidelines for minimizing lead dust exposure in many projects. These guidelines include:
Use of personal protective equipment, including a disposable coverall and a respirator with HEPA filters
Use of plastic sheeting (6 mil thick) on areas such as the floor of the work area, furnishings, and vents (plastic sheeting also should be used to cover foliage and the ground during exterior work)
Control of pedestrian traffic through work area
Lead exposure is dangerous, but also preventable. Newer solutions have reduced the need for lead, and greater awareness has helped reduce unnecessary exposure.
ECOBOND® LBP Lead Defender® PRO's patented lead sealant and treatment formula contains an advanced technology that includes lead treatment reagents, paint penetrators and high quality water based paint providing up to a 95% reduction in lead hazards* and controls the spread of airborne lead dust by up to 99% (ASTM E1613-12: Reduces airborne lead dust by up to 99%)


ECOBOND® LBP's NEW & IMPROVED Paint-it-on Leave-it-on® Lead Paint Sealant and Treatment Formula is Now Lower Cost, Easier-to-Use and Even Safer for Your Family!
After extensive research and development, we had an amazing breakthrough and have enhanced our proven and patented formula to bring you a lead paint sealant and treatment solution with these upgraded features:
o Cheaper: Breakthrough technology allowed us to lower the price!
o Safer: VERY Low VOC! (less than 15 g/L) & protects against acid rain.
o Smooth finish: Allowing you maximum versatility and quality on your projects!
o Maximum adhesion: Reducing prep time and can be used on more types of surfaces!
o Tintable: Opening up a wide-range of color combinations!
o Low odor: No smell to inconvenience your family!
o Easier to Use: Application with standard paint sprayer, brush or roller!
o Superior lead treatment capability
Contact us for more information on how you can reduce lead exposure in your industrial and commercial projects.