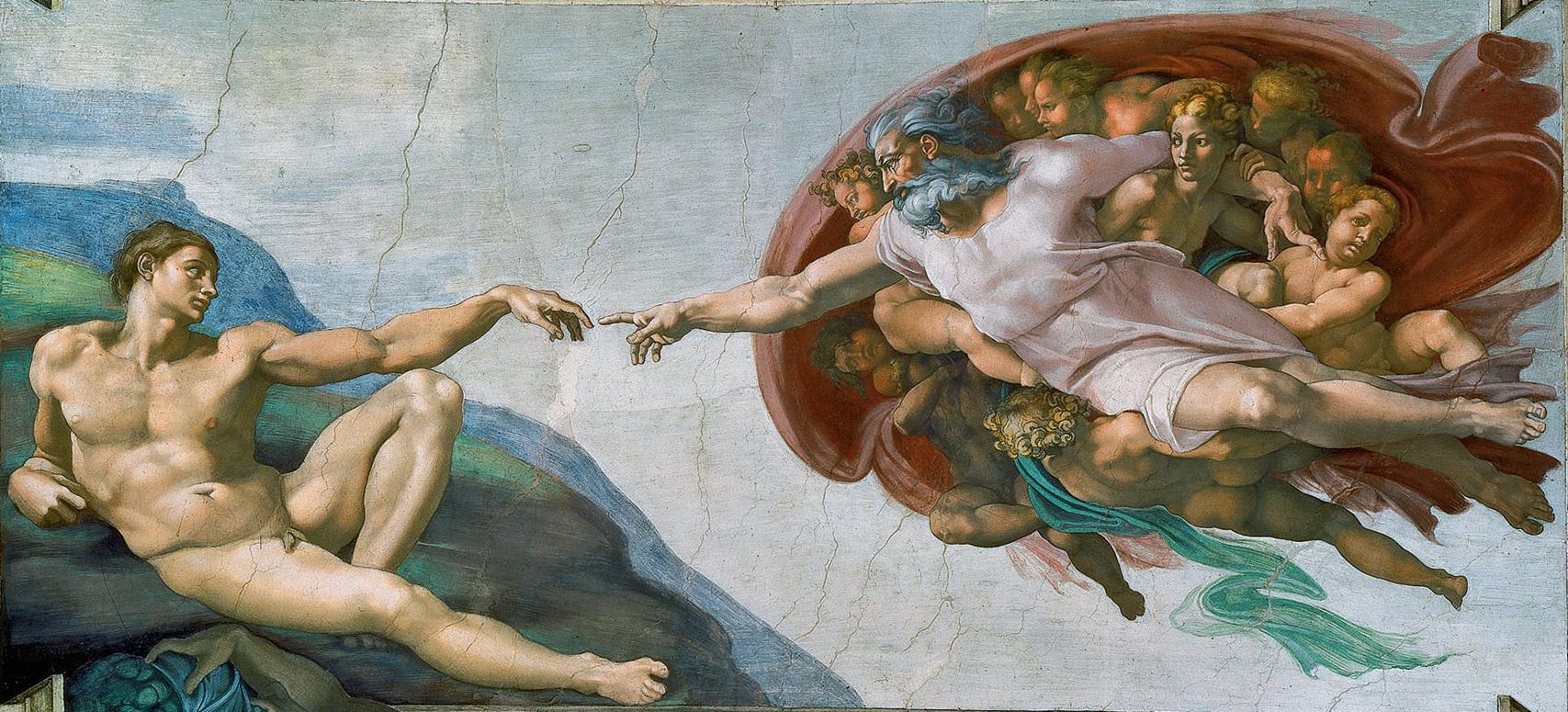 The Sistine Chapel boasts one of the most beautiful artifacts in the world. It's covered with the vivid clouds and cherubs, the smooth flesh tones and flowing fabrics, the warm and pure expression of Italian art history. For four long, painful years, Michelangelo stood on scaffolding, painting the ceiling in intricate detail. In 1509 he described the physical strain of the project in a poem. "I've already grown a goiter from this torture... My stomach's squashed under my chin; my face makes a fine floor for droppings."
He may have been suffering from more than just the muscle aches associated with working long hours in an unnatural position. But it took another few centuries before the 1834 London Medical and Surgical Journal described symptoms of what became known as "painter's colic". It correctly defined this as a "nervous affection" of the intestines, occurring when lead "is absorbed into the system."
Other old masters, too, were subject to lead poisoning. Goya painted with his fingers. He suffered from blindness and vertigo. Van Gogh notoriously sucked on his paintbrushes, as the pigment was sweet to the taste.
It's unfortunate that the world's greatest artists from ages past did not have access to lead paint removal products. But today, we have a whole arsenal, beginning with ECOBOND® LBP which is specially formulated with patented lead treatment reagents made with food-grade additives to take advantage of the natural binding properties of lead and phosphate to render lead virtually non-hazardous. This proprietary blend provides advanced human bioavailability reduction, in case of accidental ingestion of the treated lead paint chips. (your specific results may vary)
We don't cut corners. Third party independent testing documented results that confirmed the effectiveness of ECOBOND® LBP in protecting human health.
Because the fact that the minerals significantly resist breakdown and absorption of lead in the stomach, lead is hindered from getting into the blood stream by reducing in vitro bio-accessibility (IVBA) of lead from 50% to 85% on multiple samples***
Get it Right the First Time: Industrial Projects for Lead Paint Removal
When managing industrial projects for lead paint removal, remediation and remodeling contractors as well as demolition crews face tremendous pressure - and have a responsibility - to do it right the first time, not only for the sake of their customers and the public, but also for their own workers.
Patented Solution for Remodeling, Renovation, Demolition, and Disposal
ECOBOND® LBP is a patented specialty coating combining a high-quality acrylic latex paint with natural lead treatment reagents and proprietary softeners for enhanced adhesions and permeation.
As a result, ECOBOND® seals and treats the lead and lead dust in lead-based paint, effectively providing a leave-on application that renders the treated materials non-hazardous for safe disposal.
Managing Air Quality Compliance and Soil Migration Issues
Most lead paint removal projects must document RCRA EPA compliance regarding disposal of treated items and control of lead airborne particulates.
For this reason, many lead contractors treat with ECOBOND® prior to scraping and/or blasting in a containment system. The patented, comprehensive formula is a multi-use product that assists in compliance while at the same time providing for worker and vicinity/residential safety.
ECOBOND reduces air quality and soil migration concerns because the process seals lead and lead paint dust rendering demolished/treated items on-hazardous for disposal. In the process, when properly used, it also reduces airborne lead dust particulates, greatly reducing contamination at the worksite.
Due to its broad applications and consistently favorable test results, the multi-purpose product is a popular solution among contractors and government agencies alike.
ECOBOND® LBP is allowed for use as a Lead Paint Interim Control in all 50 states, and can be used as a self-priming interior paint or to prep surfaces for most topical coverings, or as an exterior primer prior to application of standard exterior topcoat.
It is ideal for home, office, commercial facilities, schools, factories, and DOT structures.
ECOBOND® LBP's superior adhesion and unique Paint-it-on Leave-it-on® formula can be used on a variety of properly prepared surfaces, including (but not limited to):
• Wood
• Drywall/Plaster
• Steel
• Masonry
• Brick
• Metal
• Concrete
• Asphalt
As a matter of fact over the last 10 years, thousands of residential, commercial and governmental contractors became dissatisfied & frustrated with traditional lead paint treatment products and made the decision to replace their old encapsulant products. They found that when they started using ECOBOND® LBP to treat lead paint on interior and exterior surfaces, it gave them better results with low odor, low VOC, quick-dry penetrating resin, firm anchorage and paint application compatibility.
They can now treat lead based paint in a leave-on application or remove it, rendering it non-hazardous for disposal!
WARNING: Learn how ECOBOND® LBP Lead Defender® Lead-Based Paint Treatment is different than Encapsulants! Why Just Cover it When You Can Treat it!
Download free Industry Report:http://www.LeadPaintRemovalReport.com
When it comes to industrial lead paint removal projects, everyone is focused on the same goal: removing the hazard without causing additional risks to those in the area. For the sake of your workers, residents, and everyone in the vicinity - shouldn't you learn as much as possible about your lead paint removal products?
Questions about compliance or testing? Contact us.
* EPA Method 1311: Reduces lead hazards by up to 95%
**ASTM E1613-12: Reduces airborne lead dust by up to 99%
***EPA 9200.1-86: Reduces relative lead bioavailability by up to 75%