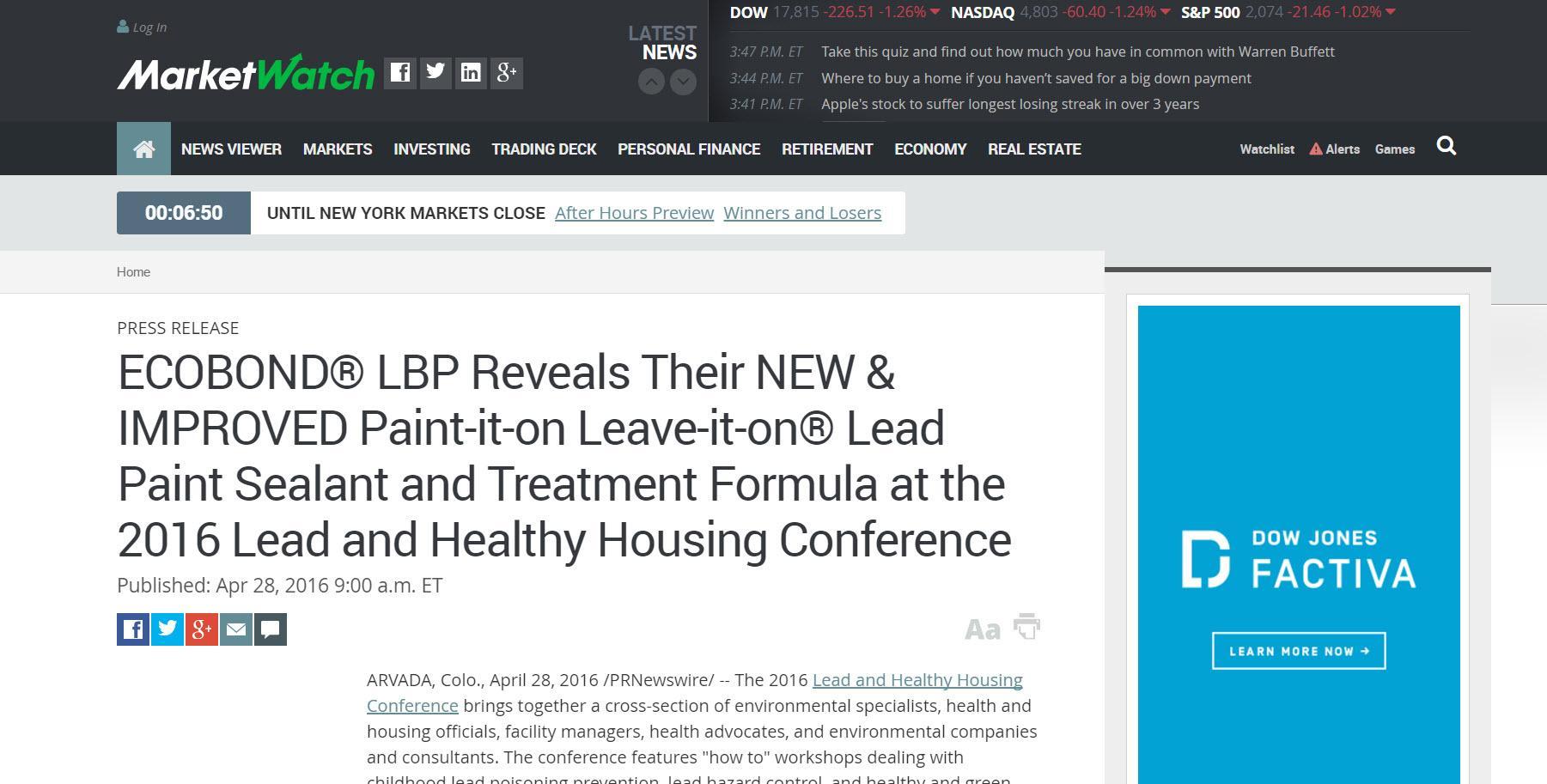 The 2016 Lead and Healthy Housing Conference brings together a cross-section of environmental specialists, health and housing officials, facility managers, health advocates, and environmental companies and consultants. The conference features "how to" workshops dealing with childhood lead poisoning prevention, lead hazard control, and healthy and green housing, grant administration, and education and outreach.
ECOBOND® LBP's NEW & IMPROVED Paint-it-on Leave-it-on® Lead Paint Sealant and Treatment Formula is Now Lower Cost, Easier-to-Use and Even Safer. After extensive research and development, an amazing breakthrough allowed ECOBOND® LBP to enhance their proven and patented lead paint sealant and treatment formula.
Upgraded features includesuperior lead treatment capability as well as:
o Cheaper: Breakthrough technology allows for lower price
o Safer: Very low VOC! (less than 15 g/L) & protects against acid rain.
o Smooth finish: Allowing maximum versatility and quality on projects
o Maximum adhesion: Reducing prep time and can be used on more types of surfaces
o Tintable: Opening up a wide-range of color combinations
o Low odor: No smell
o Easier to Use: Application with standard paint sprayer, brush or roller
"We are passionate about restoring our environment and protecting people from the hazards of lead with our patented ECOBOND® lead paint technology. We are pleased to announce our latest breakthrough in lead-paint treatment" stated James Barthel, President and creator of ECOBOND®.
This Patented Technology, is more effective than it has ever been, and to better represent their commitment to "Defend People and the Environment from the Dangers of Lead", they trademarked a new product name: "Lead Defender®".
Third party independently documented test results utilizing US EPA method confirming the effectiveness of ECOBOND® LBP in protecting human health. The formula includes lead treatment reagents, paint penetrators and high quality water based paint providing up to a 95% reduction in lead hazards* and controls the spread of airborne lead dust by up to 99% and now resists acid rain.**
ECOBOND® LBP Lead Defender® can be used as an All-in-One interior primer, lead sealant and top coat, or as an exterior primer and lead sealer prior to application of standard exterior topcoat. It is ideal for home, office, commercial facilities, schools, Industrial factories, and DOT structures.
To serve the Industrial and Professional contractor, Ecobond® LBP - Lead Defender® PRO gives these additional features: Best professional-grade quality paint, improved durability, improved hiding and improved coverage.
About ECOBOND:
ECOBOND® LBP, LLC is the nation's leader in developing and distributing products that improve the protection of human health and safety from the hazards of lead in the home, workplace, and the environment. With over 15 years in patented and proven success, the ECOBOND® family of products have been extensively used in successfully treating lead hazards in over 11,000,000 tons of material while serving over 100,000 customers in the United States and Internationally.

To learn more visit www.ecobondlbp.com, view their lead paint treatment video