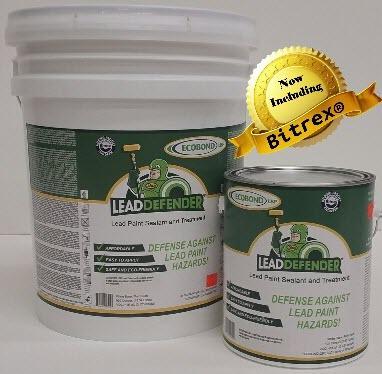 ECOBOND® Lead Defender®
Specially formulated for professional use with patented lead treatment reagents, paint penetrators, softeners and the best professional grade quality latex paint to penetrate, bond, seal and treat existing lead paint applications and control the spread of airborne lead. Advanced human bioavailability reduction (your specific results may vary), resistance to acid rain and water leaching, low odor, low VOC quick dry resin, excellent adhesion and paint application compatibility. For use on interior and exterior surfaces.
Superior Lead Treatment Technology – Reduces lead hazards up to 95%, reduce airborne lead up to 99% and reduce lead bioavailability up to 85% (your specific results may vary)

Bitrex Additive

Mold and Mildew Resistance

Fire Resistant

Very low VOC's

Protects Against Acid Rain Leaching

Excellent Adhesion

Interior or Exterior Use

Smooth Finish

Very Low Oder

Easy to Use

Tintable up to 4oz Universal or water based colorant

Water Clean-up
Note:Dry film preservatives offering excellent, long lasting protection against microorganisms, broad range mildew, algae and fungi that can grow on and potentially damage the coating. No added VOC.
Now includes Bitrex® a bitter-tasting additive to discourage oral contact! (only applies to orders through our website or Amazon)
Due to a high volume of orders, our products are currently back-ordered until June 19, 2018. We are still taking new orders in our Corporate office, please call 720-500-2063 to be put on our Fulfillment Priority List


Downloads:
Lead Safety Practices: Always follow lead work safe practices (http://www2.epa.gov/lead/renovation-repair-and-painting-program) and all appropriate guidelines (e.g. OSHA, NIOSH, EPA and all other applicable Federal and State Laws and Regulations). To control lead exposure, the use of a respirator, eye protection, and protective clothing is recommended. Use only with adequate ventilation, if you experience difficulty breathing; leave the area to obtain fresh air. If continued difficulty is experienced, seek medical assistance immediately. Avoid contact with eyes and skin; in case of eye contact, flush immediately with plenty of water for at least 15 minutes and seek medical assistance. For skin, wash thoroughly with soap and water.
If you scrape, sand, or remove old paint, you may release lead dust. LEAD IS TOXIC. EXPOSURE TO LEAD DUST CAN CAUSE SERIOUS ILLNESS, SUCH AS BRAIN DAMAGE, ESPECIALLY IN CHILDREN. PREGNANT WOMEN SHOULD ALSO AVOID EXPOSURE. Wear a NIOSH-approved respirator to control lead exposure. Clean up carefully with a HEPA vacuum and a wet mop. Before you start, find out how to protect yourself and your family by contacting the National Lead Information Hotline at 1-800-424-LEAD or log onto www.epa.gov/lead.